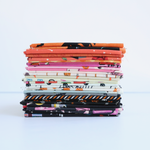 New scrappy Halloween bundle!
Here's a time-lapse video of a Halloween bundle we've been putting together!

An hour & fifteen minutes of work condensed into 38 seconds! I love this bundle way more than I thought I would after I turned a bundle (plus a few fabrics from my stash) into a quilt top.
The pattern is called Tango by @cluckclucksew and it was super fun and quick to make! Highly recommend! And if you're looking for a fun Halloween bundle, stay tuned for this one to drop vv soon!
Annnnnnnnd… the Halloween bundle is live! Affectionately called Hocus Pocus, this is a FAT EIGHTH bundle with 32 different fabrics in it.
I used this bundle plus a few more from my stash to make the Tango quilt I posted yesterday. The pinks in this bundle really pop and make it so much more fun! Grab one before they're gone!