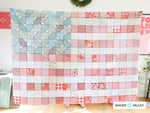 A Finished Yankee Doodle Dandy (Washed Out) Quilt Top!
My friend recently completed a beautiful quilt using our Yankee Doodle Dandy (Washed Out) Quilt Kit, and I couldn't be happier with the outcome! Before she sent it off to be quilted, she kindly allowed me to borrow it and capture some lovely photographs.
I absolutely adored curating this particular quilt kit because the fabrics are incredibly cute. The faded and washed-out look gives it a charming beach vibe, which holds a special place in my heart as I grew up in Southern California. It's one of my two favorite happy places in life, the other being Disneyland, of course.
The trend of using faded colors in quilting gained popularity a few years ago, largely thanks to Amber at Gigi's Thimble. When she created a patriotic quilt with faded colors, little did she know that she was starting a full-fledged trend!
In fact, this trend has extended to include faded versions of Christmas and Halloween quilts, which has sparked my interest in designing a fun, faded Halloween kit for the upcoming fall season. But for now, let's focus on the Yankee Doodle Dandy kits.
If you're interested, we still have Yankee Doodle Dandy kits available in two color choices (washed out and saturated). And here's some exciting news: Kaitlyn from @knotandthread is offering a fantastic 20% discount on edge-to-edge quilting services for these quilts until August 31! Check out the kit for more details. 👍