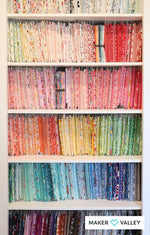 How to Choose the Right Fabric for Quilting
Hello, fellow fabric enthusiasts! Today, I'm thrilled to dive into the wonderful world of fabric selection and guide you on how to choose the perfect fabrics for your quilting projects. So grab your beverage of choice, cozy up, and let's get started!
Use Quilt Quality Fabric
When it comes to quilting, using quilt quality fabric is an absolute must for me. It's like the secret ingredient that make a quilt feel like ✨a quilt✨. Seek out fabrics specifically designed for quilting or those labeled as quilting cotton. These fabrics boast a tight weave, ensuring durability, longevity, and less fraying or fading over time. We want our quilts to be cherished for generations, right?
There are many different fabric manufacturers out there that make quilt quality fabric. Here are a few of my favorites:
Moda Fabrics, Riley Blake Designs, Art Gallery Fabrics, Dear Stella, Robert Kaufman, RJR, Ruby Star Society, Camelot Fabrics, Cloud 9 Fabrics, Windham Fabrics, and Michael Miller Fabrics (there are many more but these are most of the mainstream bunch).
If you still have questions, don't be afraid to go to your local quilt shop (or to email your favorite online shop) and ask for recommendations.
Consider the Pattern and Print Scale
Patterns and print scale—this is where the magic happens! Take a moment to consider the size of your quilt blocks and the effect you want to achieve. If you're working with larger blocks, embrace the opportunity to showcase bold and larger-scale prints. They'll make a statement and add that extra "wow" factor to your quilts. (I also like to use big prints on my quilt backs—they give the prints plenty of space to shine.) On the other hand, if the pattern uses smaller blocks and tighter spaces, go with smaller prints (or solid colors).
Coordinate Colors
Now, let's talk about color. When choosing fabrics for your projects, coordinating colors is important. Think about the mood and atmosphere you want to create with your quilt. Are you aiming for a serene and calming vibe or a lively and energetic burst? Consider the color scheme that resonates with your vision and the purpose of your quilt. Whether you're drawn to complementary colors for a vibrant pop, analogous colors for a soothing blend, or a monochromatic scheme for a classic look, let your color choices tell your story.
One of my favorite color hacks is to pick a fabric line you already love and use its color scheme as your starting point. Refer to it as you add scrappy fabrics to make sure that they match up to one or more of the colors from that line.
For more detail on this color coordination, read my post about color placement tips for quilters.
Mix and Match
In the world of quilting, mixing and matching fabrics is where creativity thrives. If you know me, you know scrappy quilts are my love language! So, don't be afraid to be scrappy, break the mold, and unleash your imagination. Experiment with different prints and colors and create quilts that are uniquely yours. I've found that combining unexpected fabric combinations often leads to my favorite (and most stunning, one-of-a-kind) quilts. So go ahead, pair that polka dot fabric with a floral print or add a touch of whimsy with a geometric design. Embrace the joy of exploration and let your creativity loose!
Practice, Practice, Practice
Now, let's talk about something near and dear to my heart—the importance of practice. Like any craft, quilting requires perseverance. Don't be discouraged if your first attempts don't turn out exactly as planned. Quilting is a journey, and each quilt is an opportunity to refine your skills. The more you practice, the more confident and skilled you'll become in choosing the right fabrics, piecing them together, and creating quilts that reflect your unique style. So keep at it, my friend!
Finally, if I'm being honest, I don't really believe that I can tell you how to choose the "right" fabrics. Your quilt is your quilt—the creative decisions you make along the way are always "right" because you made them. The more you quilt, the more you'll grow—your aesthetic eye, your taste, your creative expression—they'll all change and grow along with you. So grab that fabric, trust your inner creative voice, and enjoy this endlessly fun, exciting, and enriching journey! Happy quilting, friends!