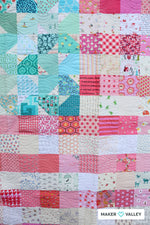 Quilt Reveal! (Yankee Doodle Dandy Neon Colorway)
This is my Yankee Doodle Dandy quilt pattern and this is the 3rd color version I've made.
The first was a traditional, saturated red, white, & blue, The second was a faded/beachy red, white, & blue version. And this version is hot pink, white, & aquas. I was inspired by Pop Art (think Andy Warhol's Campbell's Soup cans). Wouldn't other versions in bright bold colors be kinda cool? Maybe next year I'll attempt one!
What do you think about different colors? Yay or nay?