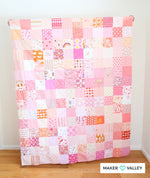 Shortcut Tutorial for Piecing Patchwork Blocks
Hello everyone! My name is Holly Lesué. I'm a quilter, fabric collector (hoarder?), and girl mom. Together with my graphic designer husband, Dave (a.k.a. Stately Type), I own and operate Maker Valley, where we design and sell quilty tees, quilt patterns, quilt kits, fabric bundles, and fun, quilty gifts (stickers, enamel pins, greeting cards, etc).
If you follow me on Instagram (@makervalley), you might be familiar with my style, but for those that aren't, there are two things I absolutely love in quilts:

1. I love a simple, classic patchwork quilt.
2. I love scrappy quilts!

So when you combine those two to create a scrappy patchwork quilt, I'm ALL in! The patchwork quilts that I love the most are the ones that have no repeating fabrics. I just throw everything in! I happen to think that it's hard to make a patchwork quilt look bad.
Find patterns for these quilts here: quilt patterns | free patterns
When I first started making patchwork quilts I would sew them together row by row and I really hated it! It was time consuming and I felt like my rows started going a bit crooked and wonky.

Then I had an epiphany somewhere along the way to break the quilt up into sections. I figured I could chain piece each section essentially turning them into big blocks, and then sew those big block sections together.

Making patchwork quilts became so much easier from this point on and now I love to make them!
I have made so many patchwork quilts over the years and have really honed my process. There are so many benefits to doing it this way! Here are a few:


No more sewing rows! Hooray!
Better accuracy with seams that line up.
You don't have to leave your quilt laid out until you can get to sewing it together! This is a HUGE benefit if you sew in a shared space like the dining room table!
This process is SO fast. You can seriously knock out a large sized quilt easily in a day or in a number of hours if you don't have any interruptions!
So let's get to it!
Download a free printable version of this tutorial with diagrams: Chain Pieced Patchwork Quilt Tutorial PDF
These instructions are for a throw size quilt which measures approximately 54" x 67.5".
You will have 180 total squares in 12 columns and 15 rows.
Step 1: Cut the Squares
Use a rotary cutter and ruler to cut 5-inch squares. You will need a total of (180) 5" x 5″ squares.
Step 2: Arrange and Section
Using a surface like design wall or board (other good options include a table, bed, or the floor), arrange your 5-inch squares in a pleasing pattern to form 15 rows of 12 squares each.
Mentally divide the squares into six sections of 30 squares—with each section consisting of 6 squares across and 5 squares down.
Step 3: Pin and Stack
Use labeled pins to mark the first square in each row ("1" for the first row, "2" for the second, etc.) and to mark the start of the second section within each row ("1A" for the seventh square in the first row, "2A" for the seventh square in the second row, etc.).
Note: I use two kinds of pins for this process: numbered pins to designate the start of each row, and flat-head pins on which I write row numbers and section letters.
Then, take each row of squares down from the board in order, forming a separate stack for each row (square 1 on the top of the stack and square 12 on the bottom). You will have 15 stacks for each of the 15 rows.
Step 4: Chain Piece
With the first five-row stacks nearby, chain piece the top right section together—begin by taking the first two squares from row one and sewing them Right Sides Together (RST).
Without cutting the thread, sew the first two squares of row two together. Continue in that same way without cutting the thread in between each row, sewing the first two squares together from each of the first five rows.
Sew the third square of each row to their corresponding rows. Repeat this process with the fourth, fifth, and sixth squares from each row. Now you should have each row sewn together and chained to the next row.
Step 5: Press Seams
Now you're going to press your seams. Keep it easy and consistent by sewing all odd rows to the left and all even rows to the right.
This way, all the seams will nest when the rows are sewn together.
Step 6: Sew Rows
Once you have everything pressed, sew the rows together. Once the rows are sewn together, you need to press the new seams that you've just sewn.
Step 7: Press Row Seams
For the left section, press your seams up. In the right section, press your seams down. This will allow your seams to nest again when you sew your sections together. Repeat this process for each section.
Step 8: Sew Sections
Sew the top two (left and right) sections together.
Repeat this process with the middle (left and right) and bottom (left and right) sections.
Step 9: Press Section Seams
Press the top combined section seams to the right. Press the middle combined section seams to the left. Press the bottom combined sections seams to the right.
Step 10: Sew Combined Sections
Finally, sew the three combined sections together.
Once those three combined sections are sewn together, you'll have a finished patchwork quilt top. Yay!
I hope this technique has been helpful! May your future have an abundance of patchwork quilts in it! Happy sewing, friends!
Note: After the quilt top is pieced, I always sew an ⅛" seam all the way around the edge of the quilt top so that my seams don't pop open.
Download a free printable version of this tutorial with diagrams here: Chain Pieced Patchwork Quilt Tutorial Downloadable PDF
Note: A version of this post appeared originally on Amy Smart's Diary of a Quilter blog here: Shortcut Tutorial for Piecing Patchwork Blocks