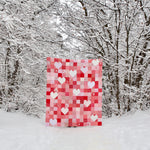 Love Drops Quilt Tutorial
Do you ever feel like heaven is smiling on you? 2020 was a pretty difficult year for so many (if not all) of us in one ay or another. I think the phrase "Hindsight is 20/20" is so appropriate as I look back on the year 2020 and see so much growth and so many blessings. Personally, through my own trials, I now see the hand of God in my life. It wasn't always easy to recognize last year but I'm learning how.
Dave and I frequently hike in a canyon located near our home. My friend Emily has been finding heart rocks for awhile now and I remember being sad because I couldn't ever "see" them. Then one day on our hike, we came upon a whole collection of heart rocks just to the side of the trail. We soon learned that a group of ladies who we often pass on the trail are the ones who collect those heart rocks and place them in a special spot in memory of their friend who passed away. Around this same time, I was dealing with my Dad passing away and all the heartache that came with that. I was also not expecting the emotions that came back up for me regarding my Mom's passing over 8 years ago. Even though I was surrounded by family, I was feeling deep loneliness and a void having now lost both of my parents. Needless to say, I was dealing with a lot of grief and sadness.
Then one day on a hike, it happened. I started seeing heart rocks. In fact, I couldn't stop seeing them. They were EVERYWHERE. It was so fascinating to me! It was also a very humbling experience. I felt God's love wash over me. I felt and knew that my parents, reunited once again, were unseen by me but close by. It felt like God was showering me with His love by showing me that it is actually always around me in abundance. I just need to slow down and recognize it for what it is.
What does all this have to do with this quilt, you ask?
Well, as I was gathering Valentine fabrics for the shop and contemplating what kind of bundle I should offer, I remembered my Halloween patchwork quilt and how simple sometimes is best. If you've followed me for a while, you know that patchwork quilts are my one true love (they're classic and so simple!). But as I started thinking about making yet another patchwork quilt, the idea came to my mind to make a Valentine patchwork quilt but to add a few hearts, scattered here and there. It's still classic patchwork, plus a little love.
It reminds me that God sprinkles (and sometimes showers) us with His perfect love. And so I give you, the "Love Drops" quilt.
I'd love for you to make one for yourself or for someone you feel needs a bit of love in their life. It's a super fast quilt to make and I hope you love it as much as I do!
Before you begin:
A

ll seam allowances are 1⁄4"

Right sides together is abbreviated as RST 

Width of fabric is abbreviated as WOF

Fat quarter is abbreviated as FQ

Half square triangle is abbreviated as HST 

Low volume is abbreviated as LV 
I used both red and pink fabrics for the background in this quilt. However, to make the instructions clearer I will refer to both colors as "red."
These instructions are for the large throw size which measures approximately 67.5" x 81". You will have 270 total 5" squares, 15 columns and 18 rows.
For this size you will need:
(246) 5" squares using red fabrics
(48) 2.5" squares using red fabrics
(48) 5" squares using low volume fabrics
2/3 yard binding fabric
5 yards backing fabric
For your background: A fat quarter that is cut at 18" x 21" will yield (12) 5" squares, and (8) 2.5" squares. However, you should not cut (8) 2.5" per FQ or you will have too many.
If you are using fat quarters, you will need 21 red FQs. But if you want your quilt to be more scrappy, I suggest you use more of a variety of fabrics—this is a great stash-buster quilt!
For the hearts: I used 12 different low volume fabrics and each of the 12 hearts are made from the same fabric. This way they stand out a bit better.
However, I used a variety of red fabrics to make the heart points order to keep the scrappy feeling throughout.
To make the hearts:
For the HSTs for the bottom point of the hearts:
1. Draw a line diagonally across the back of one 5" LV square.
2. Place that 5" LV square on one 5" red square, RST.
3. Sew on the line
4. Cut 1/4" away from the line
5. Press open
6. Repeat this step 24 times
To make the points at the top of the hearts:
1. Draw a line diagonally across the back of one 2.5" red square
2. Place that 2.5" red square on the top left corner of the 5" LV square, RST
3. Sew on the line
4. Cut 1/4" away from the line
5. Press open
6. Repeat on the top right corner of that same 5" LV square
7. Repeat this step 24 times
Once you have all your heart pieces made...
...lay your quilt out. Feel free to place the hearts anywhere. I made the placement of the hearts random on purpose to avoid making it look like a playing card. Not that there's anything wrong with that, it just wasn't the look I was going for.
Once your quilt top is sewn together, quilt it yourself (or have it quilted), bind it, snuggle it, love it, use it! This is a great quilt to gift to someone who you want to shower with love.
Kaitlyn (@knotandthread) quilted this for me using the Two of Hearts pantograph and I love it!
My kids all prefer minky or flannel backed quilts, so that's what I mainly use these days for backing. This minky fabric is from Shannon Fabrics, it's their cuddle minky in the color honeydew.
The striped binding is from the line, Be Mine by Stacy Iest Hsu for Moda Fabrics. This valentine line by Stacy is absolutely darling and the binding couldn't be more perfect!
I hope you love making this quilt! I'm planning on making more versions in different color ways and different sizes. I'm excited about the endless possibilities!
We also offer a FREE printable PDF version of this tutorial which includes more size options!
Additionally, I have a limited number of quilt kits available in the shop (the kits include the PDF tutorial). Grab one before they're gone!