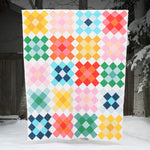 Happy St. Patrick's Day (New Rainbow FQBs!)
Look what I made with the Hole Punch Dot fabric line by Kim Kight for Ruby Star. This is just the top though, I'm undecided on what to back it with!
Also, I just listed a few
rainbow bundles
in honor of today! I've been told that rainbow bundles lead to quilting gold!
As I continue to phase out the fabric portion of Maker Valley, I'm going to start listing bundles much more frequently. Like I said, today's are all rainbow themed, but I have some yummy low volume bundles coming up! Stay tuned!