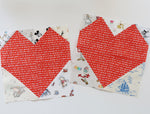 I'm working on a Disney quilt...
I've wanted to make my girls Disney quilts for awhile so I've been slowly collecting fun Disney fabrics. I didn't have any particular pattern in mind until I found this red fabric from Camelot fabrics that says "love you to infinity and beyond." So I'm going to make each of my younger girls small
Love Drop
quilts with one heart made from this red fabric. The rest is going to be low volume Disney and Disney inspired fabrics. These will be perfect to take with us on our next road trip to the Happiest Place on Earth!
The best news is that I have a handful of low volume Disney
fat quarter bundles
available in my shop right now for YOU! So you can make your own Disney quilt featuring Mickey, Minnie, Goofy, Pluto, Donald, Daisy, Alice, Pooh Bear, Lilo & Stitch, Lady & the Tramp, Dumbo, Bambi, and more!
Now if I could wish upon a star for some extra sewing time, that would be pretty dang magical! Happy sewing, friends!