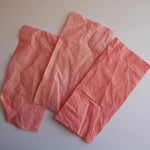 Do you add color catchers into your washing machine when you wash your quilts? I always do, especially the first time I wash my quilts. But as a precaution, I throw at least one in with every quilt. I'm often surprised at how much color bleeds from quilts that I've already washed, like these pictured here!
If you want to see the guilty quilts that bled, see below. These are two Christmas quilts I never got around to sharing in my #hollysjollyquiltparade back in December. Pattern is Patchwork Forest by @diaryofaquilter. Such a fun pattern!

Also, if you don't know what a color catcher is, here's a photo:
You can buy these on Amazon or in a regular grocery store. This is not a sponsored post, just a friendly PSA I wanted to share, especially after pulling these out of the wash today!