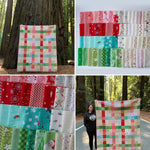 Restocked: Patchwork Plaid Quilt Kits!
We just restocked our Patchwork Plaid quilt kits! They're available now in the shop!
Backstory: A couple of years ago, I created a tutorial for this a quick and easy quilt and shared in on @diaryofaquilter's blog. I offered a few kits at the time but they sold out pretty quickly and they've been out of stock for quite a while now.
If you know me, you know I LOVE scrappy quilts and take pride in making my kits MEGA scrappy, packed with tons of fabric variety. This one has 60 different fabrics in it!
If you're looking for a fast, fun, festive project, grab one of these scrappy babies before they're gone! Thank you!