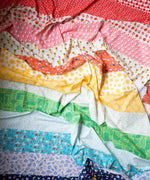 I needed a fast project...
I needed a fast project so I grabbed the 1/3 yard bundle from my shop, cut (2) 5.5" strips, sewed the two strips together, and then sewed all the strips together in rainbow order to make this cheerful quilt! I got the idea from @woodberry_way's Rainbow Stripe Quilt tutorial on her blog, but I changed the size of strips to make it bigger. The problem now is that I'm stuck on how wide to make it. But since there are bigger problems to face right now it sits patiently waiting for me to finish it. 
We are out of stock of this fabric bundle but I'm hoping to add a new version of it soon!