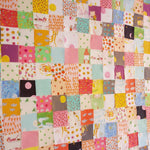 I may or may not have started another patchwork quilt
I gathered up 40 different Heather Ross prints, cut them into fat eighths and then cut them all down to 400 4" squares. Gosh, when I write it out like that, we quilters really do seem crazy—cutting fabric up just to sew it all back together!
Anyway, I laid it all out the other day and even though I haven't had time to sew it together, I'm pretty excited with the direction it's taking!
I have more of these same Heather Ross fat eighth bundles in my shop as well as a few other colorful stripe and polka dot fabric bundles (in fat quarters, half yards, and yards).