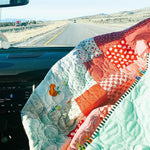 We are hitting the road and I'm happy to have something to keep my hands busy!
I'm also grateful I don't get carsick while binding! Do you get 🤢or are you 👍while riding in the car and working on something?
Thanks to my friend Debbie 
@hobblecreekquilting
, she quilted this for me in a jif using the pantograph Mexican Carpet which is 👌! And thanks to my friend 
@melanierammell
 for giving me an assist with the binding so I could finish it on our drive! Quilty friends are the best!