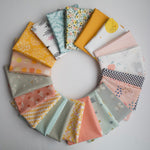 Fat Quarter Bundle of the Week: Butterscotch
UPDATE: Sold out! See all in-stock fabric bundles.
I am so excited about this week's bundle! It might be my favorite one yet!
It's called Butterscotch thanks to @diaryofaquilter and to the discovery of adding butterscotch chips to both peanut butter cookies (thanks @thelatesew!) and banana bread! Both are seriously so yummy!
The fabric I used as the starting point in curating this bundle is from @dearstellafab's Shine Bright collection.
I only have a limited number of these and once they're gone, they're gone for good! Go grab one from the shop!